Written by Shradha Chettri| New Delhi | Updated: June 19, 2017 6:23 am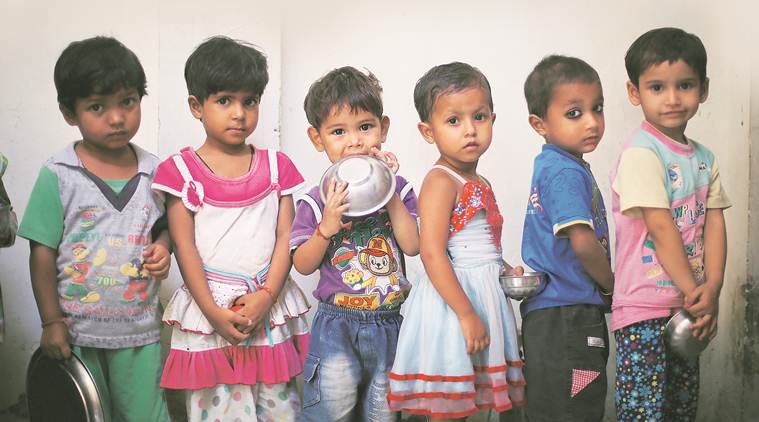 Children at an anganwadi centre in Nardan Basti, near Lal Kuan, in south Delhi.Express Photo by Oinam Anand
A healthy meal and a stepping stone for school — anganwadis in the city have two key responsibilities. The Indian Express explores the problems at each front
Five-year-old Naseem does not go to school, but that doesn't mean he can stay at home after breakfast. As soon as the clock strikes 9 am, Naseem leaves home, unenthusiastically dragging his feet across a small drain filled with plastic. He eventually reaches a small room on the ground floor of A block, New Seemapuri, in northeast Delhi.
Six others, some younger than Naseem, are already there, with an old fan and a rug to keep them comfortable. A few tattered charts with alphabets and numbers hang on the wall.
Naseem is greeted by his teacher (officially a 'worker'), a woman in her 30s. She marks him 'present', and he sits down to play with the plastic toys scattered on the floor.
He spends the next four-and-a-half hours at the anganwadi centre (AWC), which is supposed to provide him supplementary nutrition and prepare him for Class I. But his mother, Shabana, has a grouse: "He has been going to the anganwadi for over two years. Forget learning the alphabets, he still doesn't know how to hold a pencil, or colour."
The Indian Express visited 14 anganwadis, and found similar problems almost everywhere.
Shabana still sends her son to the AWC because that is the only time she gets to do tailoring work. Her husband is a daily wager. The couple have three other children — two study in a nearby municipal school and one in a Delhi government school.
As Naseem plays, another woman walks in holding two children, aged three and four, by their hands. She makes them sit alongside Naseem. She is a 'helper' at the AWC, responsible for bringing children aged six and below from the neighbourhood to the centre — under the Integrated Child Development Services (ICDS) Scheme.
Hard to swallow
The ICDS — under the Ministry of Women and Child Development, and looked after by the WCD department in each state — has been in place since 1975. It was restructured under the 12th Five-Year Plan to ensure holistic development of children aged six and below.
The aim was to reduce anaemia and child mortality rate by giving supplementary nutrition — especially to malnourished children — and to improve early learning outcomes.
Naseem's teacher is meant to keep children engrossed till 12.30 pm, when food arrives. She makes them narrate a poem, but eventually they get fidgety and say they want to go home. The two women assure them they will get food soon. Eventually, men carrying two steel containers walk in around 11 am.
The food is to be distributed to children up to six years and pregnant and nursing mothers in the neighbourhood.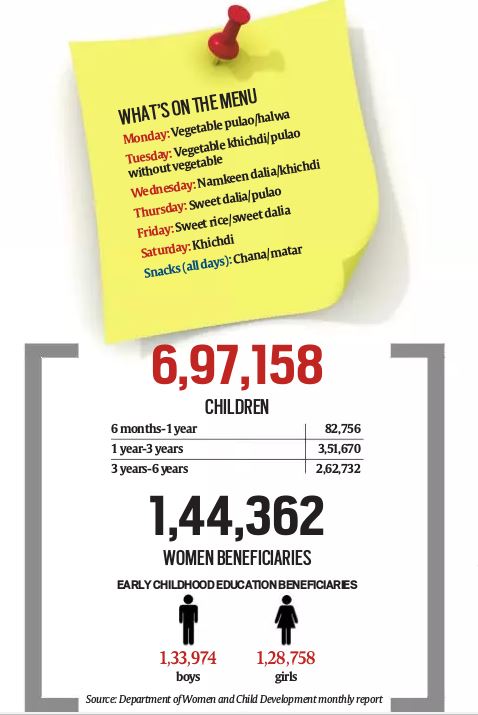 Today, the meal comprises pulao and salted chana (black gram). While there's a different meal every day (see box), the snack alternates between black chana and white matar. The children — there are 6,97,158 in anganwadis across the city — know each day's menu by heart. Even before the helper lifts the lid, Naseem says, "Aaj toh pulao milega. Mujhe toh sirf meetha dalia acha lagta hai, jo kal milega."
The children line up with bowls. Some sit and eat, while Naseem runs home with the food. He keeps it in the kitchen and asks his mother for lunch. "Many children don't like the food at the anganwadi. Naseem usually comes home and eats lunch," says Shabana.
Sarita Dhariwal, a worker at an AWC a few blocks from Naseem's home, explains why: "It is impossible to eat this rice. The chana has no salt. But children still eat the food because there is no one to cook for them." Dhariwal, who has been at the centre since 2012, says the quality of food has deteriorated with each passing year. "It is only when there is news of an inspection that the quality improves," she says.
Insufficient staffers
The food at the AWCs is supplied by non-profit organisations (NPOs) empanelled by the WCD department. There are 22 in the city and work is allotted through a tendering process. Each kitchen prepares food for 30-40 anganwadis.
The meal is supposed to provide 500 calories and 12-15 grams protein to children aged between 6-72 months, and 600 calories and 18-20 grams protein to pregnant and nursing mothers.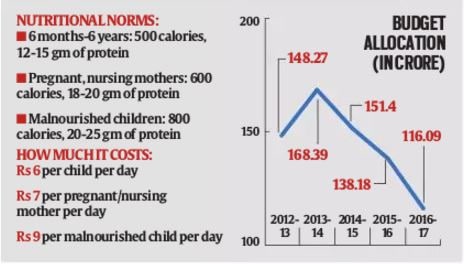 Dhariwal says she has raised the matter with her supervisor and the Child Development and Project Officer (CDPO). Since there are only 37 CDPOs for 95 projects, an officer cannot visit each centre under her daily, which means quality tends to slip. "Apart from visiting the centre, we also have a lot of administrative work. It is not possible to keep a record of every centre," says a supervisor in south Delhi, who did not wish to be named.
There should be one CDPO for each project, but most positions haven't been filled for years.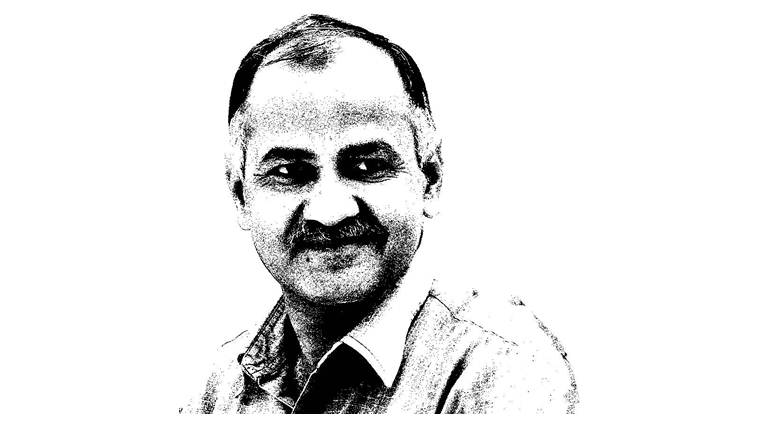 Deputy Chief Minister Manish Sisodia, who recently took additional charge of the WCD department, acknowledges the problem. "As services are no longer under the jurisdiction of the Delhi government, it has become difficult to appoint officers," he says. For now, the minister has asked DANICS and ad hoc IAS officers to visit two anganwadi centres on Saturdays.
With few takers, most of the food at anganwadis in Sangam Vihar — one of Asia's largest unauthorised colonies — is often thrown away. There are frequent complaints that the anganwadis have been serving the same snack every day. "Children get tired of eating the same thing. Since we have to keep them here till 12.30 pm, I buy biscuits for them," says Suman Lata, a worker at AWC No. 100 in Hamdard Nagar.
Just like at her anganwadi, most other centres only have 10-15 children registered. Lata acknowledges that the number of children in the neighbourhood is far higher.
Former chairperson of the child welfare committee, Raj Mangal Prasad, says, "The government had decided that commercial ventures will not supply (food) and that work will be given to NPOs. But, ultimately, these commercial ventures started NPOs. The profit in food distribution is huge. Then there are supervisors who work with these NPOs, so monitoring quality has been a huge challenge."
Each AWC gets food based on the number of children and women registered. NPOs are paid Rs 6 per day to supply meals for children below six years, Rs 9 per day for malnourished children, and Rs 7 per day for pregnant and nursing mothers.
A learning issue
Like Shabana, many other parents The Indian Express spoke to shared concerns about their children not learning enough.
Anganwadis are ideally supposed to serve as Early Childhood Care and Education (ECCE) centres, with Sisodia bringing in a fixed curriculum to be taught to children. By the time children leave the anganwadi, they should know the names of colours, seasons and learn how to write letters and numbers.
Four-year-old Rehan at anganwadi No. 104 in New Seemapuri plays with an alphabet cube, but doesn't know what it is. "Mujhe nahi pata ye sab kya hai," he says. The helper brushes it off, saying Rehan is not regular.
But Rajiv Kumar of local NGO Pardarshita says the problem with most anganwadis is a dearth of workers responsible for teaching.
"Helpers are supposed to collect children and serve food, while workers do the teaching. But many positions are lying vacant," he says.
At Rehan's AWC, too, the worker has been on leave for a while now. That many anganwadi employees haven't been paid for as long as four months doesn't help. A worker gets Rs 5,000 a month, while a helper makes Rs 2,500.
"When we ask supervisors, they say we will be paid soon. If they expect us to work properly, they should also pay us," says a worker at a centre in Lal Kuan.
Those who are regular complain that they haven't been trained enough. "The government sends new guidelines and course sheets, but we don't get training. We have to know how to teach children. Some workers have not been trained in the last 10 years," says Kavita Chauhan, an anganwadi worker at Lal Kuan.
Chauhan, who studied till Class X, was hired as a worker in 2012. She was trained for a week when she joined — and that was about it. During training, they were taught how to fill registers, weigh children and maintain a record of malnourished kids.
How well that data is maintained is another story. Sunita, a resident of E-block in Sunder Nagri, says that when her daughter was three years old, she weighed just 3.7 kg — much below the WHO standard of 10.7 kg.
Sunita, whose daughter is now six, says she used to visit the AWC near her home to weigh her child and get vaccinations. But no one told her the child was malnourished. When NGO Pardarshita conducted a survey between 2013 and 2014, they found the child needed immediate medical attention and took her to the hospital. Till date, she has not fully recovered.
Of the 580 children weighed in just one block in Sunder Nagri, 65 were severely malnourished and 131 were malnourished. This is in stark contrast to a monthly report of the WCD department across the city during the same
period, which showed only 201 children aged six or below were malnourished. "Anganwadis don't have proper weighing machines… Many provide inaccurate measurements," says Kumar.
Dhariwal says there is just one weighing machine for around 10 AWCs in the area. "We get to keep the machine for three days every month to weigh children at the centre and in the neighbourhood," she says.
As per the National Family Health Survey (2015-2016), 27% of children in the city aged five or below were underweight, up from 26.1% in 2005-06. Similarly, 62.6% were anaemic, up from 57% in 2005-06. Field workers say the only way forward is to set up a state food commission, as mandated by the Food Security Act 2013.
"Section 6 of the Act is about malnutrition. The ICDS not recording this properly is a violation of the Act. The only solution is to establish a state food commission as a monitoring committee for such schemes," says Arvind Singh of NGO Matri Sudha, which works in the field of nutrition and education.