Preschools are ubiquitous in India's villages, shows a comprehensive new survey that watched 14,000 children over 5 years. But the benefits they bring are often dependent on factors such as the quality of early education, child's gender and education level of mother.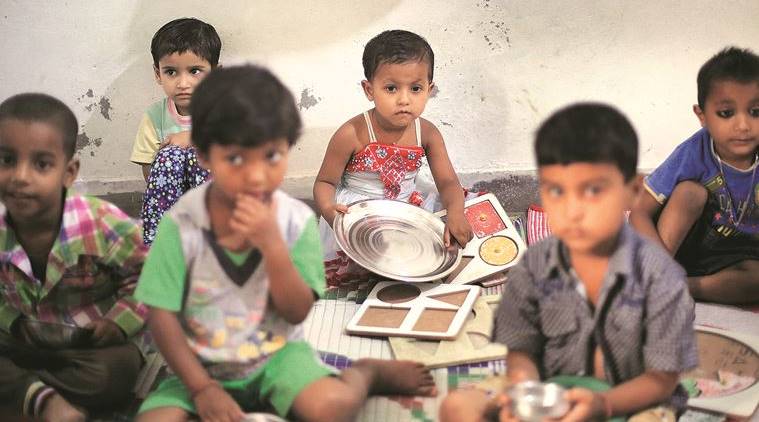 Preschooling in India: 1.3 million early child development centres or anganwadis cater to over 82 million children aged 0-6, 70 million of which are in the age group 3-6 years. (Express Archive Photo/Oinam Anand/Representational)
Where is a four-year-old child most likely to be at, say, 11 in the morning? At home? In an anganwadi? A private preschool or even a formal, primary school? And if she is spending her time in a preschool, what is she most likely to be doing? Playing, writing, or nothing at all? Does the time she spends in preschool have any impact on what she does when she begins formal schooling? In short, does preschool or early learning matter? A comprehensive three-state study by Annual Status of Education Report (ASER, the organisation whose annual survey on the state of primary education is a key barometer on learning levels across rural India), UNICEF and Ambedkar University Delhi shows an early start matters — but so do several other factors.
The study followed 14,000 children from Assam, Telangana and Rajasthan over five years — starting in 2011, from the time these children were 4 years old, and ending in 2015, by which time they were 8 and mostly in primary school (3% of 8-year-olds across these three states were, however, still in preschool).
While international research over the past half century has established the role of early learning in the head start that children get when they enter formal school, in India, the study found, the benefits of such intervention are directly related to a number of factors — among them, the quality of early education, the gender of the children, and the levels of education of their mothers.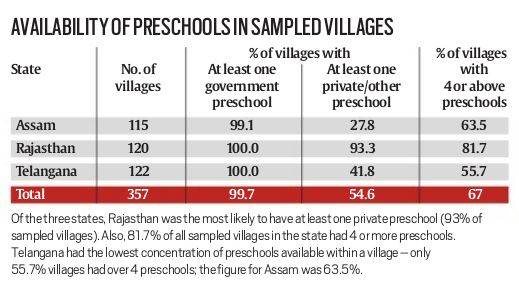 Early learning broken down: A study of Assam, Rajasthan and Telangana
So what does the Early Childhood Care and Education (ECCE) map of these three states — Assam, Telangana and Rajasthan — look like?
Impressive, if one were to look merely at the spread of preschools. All the 357 villages picked for the survey had at least one preschool: anganwadis, private preschools integrated with primary schools and, in a few cases, centres run by voluntary, religious, or other kinds of organisations. Rajasthan had the largest number of preschools — more than 80% of sampled villages had four or more preschool options; however, over a third of 4-year-olds in Rajasthan did not participate in any institution. This last figure was less than 10% in both Assam and Telangana.
Although anganwadis formed the bulk (7 out of every 10) of preschools, parents showed a clear preference for private preschools, the study found. This was because of the emphasis the private institutions placed on reading and writing, and also because they often called themselves "English medium".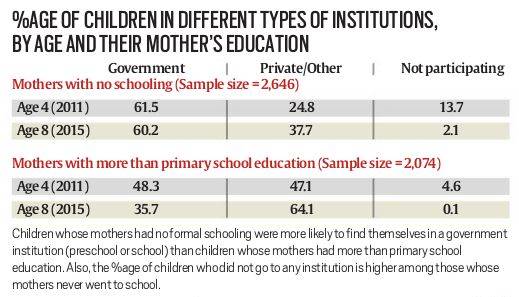 "What we found during the survey was that there is a gap between what parents want and what is developmentally appropriate for the child. While parents wanted children to start with the three Rs — reading, writing and arithmetic — experts recommend age-appropriate, conceptual learning as part of early preschool education. Which means, children learn by manipulating objects and understanding concepts like quantity and shape, and not exactly by holding a pencil and copying, which is what many of the private preschools stress on," said Suman Bhattacharjea, Director of Research at ASER.
The National ECCE Policy of 2013 recommended developmentally appropriate, play-based preschool education for children between the ages of 3 and 6, and a structured school readiness component for 5- to 6-year-olds. The earlier National Policy on Education (1986), too, had discouraged any formal instruction of the 3Rs for preschoolers, and emphasised play-based learning instead.
The study also found that contrary to the assumption that children enter the same class at the same age — say, they are all 6 years old by the time they are in Class 1, as mandated by the Right to Education Act — in Indian schools, mixed classrooms are common. At least 7.1% of 4-year-olds were already in Class 1 in three states, and in Assam, for instance, 3.6% of 8-year-olds sampled were still in preschool.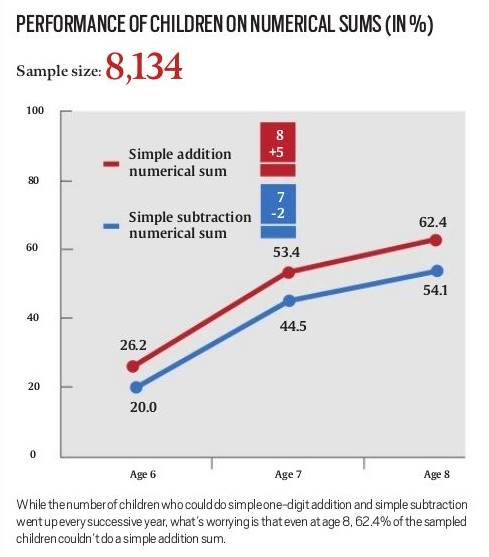 Early learning broken down: A study of Assam, Rajasthan and Telangana
While gender has always played a key role in deciding access to school, with larger proportions of boys than girls attending private institutions, the report shows that discrimination begins early, with boys standing a better chance of being sent to a private preschool than girls — 48.6% of 3,305 boys surveyed were in private preschools at the age of 5; only 39% of 3,184 girls of the same age were in private preschools. Which leads to the crucial question of whether preschooling matters at all. The study shows school readiness at age 5 makes a difference in overall math, language and cognitive domains.
As part of the survey, 5-year-olds were told to do a particular activity — from pictures of apple-laden trees, they were asked to identify which of the trees had the most apples and which had the least. The survey shows that children who could do this task at age 5, or, in other words, had better pre-numeracy skills, performed better than those who could not do the task, over the next three years — that is, when they became 6, 7 and 8 years of age.
Although children with higher school readiness levels at age 5 had better early grade learning outcomes at age 6, the study found that the correlation between preschooling and early grade learning weakens over time — that is, with each successive assessment year. "If quality preschool is followed by quality primary school, then you might expect to see this impact sustain over longer periods, but if better school readiness is not reinforced at the primary stage then it is not surprising that the impact dissipates over time," Bhattacharjea said.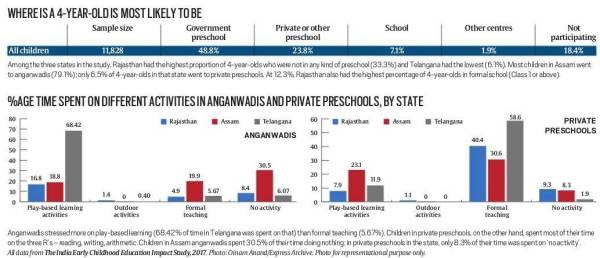 Early learning broken down: A study of Assam, Rajasthan and Telangana
The report ends with a few key recommendations — among them, including preschool education as part of the Right to Education Act. The Act currently covers children aged 6-14, excluding children below age 6 from its ambit. Section 11 of the RTE Act asks state governments "to endeavour to provide preschool education… so as to prepare them for primary education". But it does not make Early Childhood Care and Education a justiciable right of every child.
The report also calls for paying attention to the quality of preschooling, and a regulation or accreditation system for the sector. Until all this happens, it will remain likely that at 11 am, you will still come across a 4-year-old at an anganwadi or a private preschool, but the question will persist: will she be ready for school two years later?